So toxic and cuddle asked zammy gear, so there is mine.
Degrade what ever u possibly need to, and for tank you might want to take few more food and gear urself with karils top/bot and swap defender for DFS/Crystal Shield (i)
For attacker, incase you take agro from the boss and get poisoned, take 1 Sanfew serum with you (just in case), and maybe 1 more supercombat i just trhew shit into my inv lol but it gives you a hint.
and you may want to change that accidentally equipped b-ring to warriors ring (i) if you have it, just to increase your slash to the max
Last edited by PoorCoyote on Wed Jan 11, 2017 6:24 pm; edited 1 time in total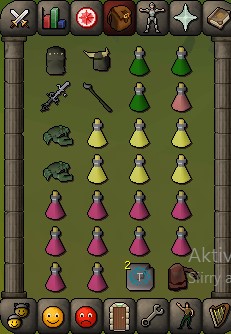 [Only admins are allowed to see this link]
do u see it now toxic?
Because this forum is weird af and that image wont show up, i'll list inventory here:
Attacker:
- Guthans
- bgs / sgs / halberd
- 3-4 super combats
- 2 high healing food (shark, tuna potato, dark crab)
- 4-5 brews
- 2x trollheim tabs
- 1 Sanfew serum
- restores 12-13
Tank: If you have serpentine helm, no need for sanfew
- Spec weapon
- Guthans
- 3-4 super combats
- 8 brews
- 2 high healing foods
- 2x trollheim tabs
- restores as much as u can fit in
Invetories can be little bit experimental and ofc trip lenght depends on suplly drops too, but maybe we get something done
thanks i can see the first picture but the other 3 links i can not see




Posts

: 6


Join date

: 2017-01-04



I think this is just something Frozen needs to fix? maybe he needs to check the link to see it's okay?



Posts

: 13


Join date

: 2017-01-04


Age

: 19


Location

: England



Definedly cut out few brews and replace with restores if you go trio, food drops so often that trip is almost completely depended on restores with that set up

Similar topics
---
Permissions in this forum:
You
cannot
reply to topics in this forum